Top 11 Family Walking Together
Creating Authentic Family Moments | Top 11 Family Walking Together
---
August 2, 2017
One of the lessons that I learned in my early years of family portrait photography came during a session with my own sister and her family. The lesson: As easy way to set the stage for creating authentic family moments with just a little instruction and a whole bunch of fun.
It was my very first year photographing families outdoors, and my sister and I scheduled a late Summer session. We had already spent two hours in a park and the kids were getting tired. But I wanted a truly amazing photograph for my sister of her whole family. My sister looked at the hill nearby and said "If you want a photo of all the girls smiling, let them run down that big hill over there". I looked to the hill and I saw the light, and I mean literally - the light was stunning.
So, I sent the whole family up the hill while I laid down in the grass at a distance. The whole family went running hand in hand down the hill and the smiles and giggles followed and an authentic family moment was created. This photograph was created in September 2010 and a beautiful canvas print of this image still hangs on my sister's wall in her family room.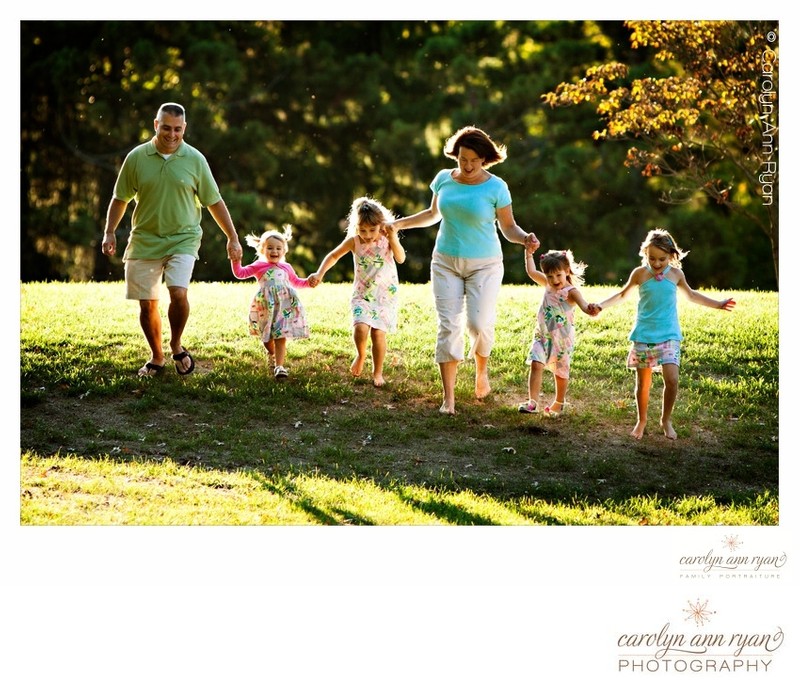 As I have been compiling favorite moments over the last few weeks, I realized that some of my favorite photographs from my clients' sessions are created in a very similar way. But as you scroll through this list, you can see how a simple idea can highlight a family's unique personality and create a beautiful and even magical moment in a classic photograph. So here are my . . .
Top 11 Favorite Photographs of Families Walking Together
I love how happy this family looks together. And their outfits paired perfectly with the beautiful rust colors of the foliage.
Running through a field in the fall can certainly bring smiles to the little ones. This photograph has occasionally been featured on my business cards.
Beautiful spring session with hair blowing in the breeze and Dad making everyone laugh.
The wonder of childhood. I love how Mom and Dad adore these little guys.
I have always loved how the expression on this little man's face, as well as how the whole family focused right on him. I wonder if he still loves to steal the show.
If you have been to my studio office, you are familiar with this family and the cluster of photographs on the walls. I adored their energy and spirit. So much fun and giggles, despite the November chill in the air.
There is a sweet dreaminess to this photo, and I'm just waiting to see the enchanting young lady begin her twirl.
I love the outfits, the balloons, that beautiful pop of color against the sunlight and the incredible connections captured within this sweet photograph.
Sometimes, you gotta go your own way.
And yes, this little man agrees and he will choose to lead, not follow.
As I relocated to Charlotte two years ago, this one holds a special place in my heart. The family was one of our first Irish Dance friends after relocating and I love how much their adore their sweet girl. And while I don't normally love having other people in the backdrop, seeing a person in a Panthers T-Shirt truly fits this city. Charlotte loves the Panthers, and Charlotte is home.