Most Prepared Family Photographer
Tips for Being the Most Prepared Family Photographer
Always be prepared
I strive to be the MOST prepared Family Photographer for my clients, and with over eight years of experience photographing families, I thought I knew everything I should bring in my car and camera bag to a family portrait session. While there is very little I am unprepared for, after each tiny mishap or snafu over the years, I have added to my personal photographer toolkit to prepare for the next time.
But when I decided to write a blog post with tips for other photographers, I decided to reach out to a handful of my fellow members of the National Association of Professional Child Photographers (NAPCP) to see if they had additional suggestions for items to pack in your camera bag and/or car before you head out to meet your clients. They had a few interesting stories to share and a few additional tips for keeping your car and your camera bag stocked and ready for your next family portrait session:
For your car/trunk:
Gas Tank
Fill up your gas tank in your car the night before your session. My dear friend, Willy Wilson, from Life Unstill Photography in Colorado, shared this little tidbit recently. We won't confirm or deny if Willy was ever so worried about almost being late for a client session that she pulled away from the gas station with the gas pump nozzle still attached to her car! Either way, save yourself a bit of worry and ensure the gas tank is full before you venture out to your location.
Portable Toilet Seat
When you are on location with young children in a park or field, a toilet situation might arise, and there isn't always a bathroom near. Don't let poor parents get stuck in this situation. I keep a small "travel potty" in my SUV for these emergencies! I love this one on Amazon, and it includes simple zip-closure bags for easy clean-up. Keeping a fresh stock of baby or Cottonelle wipes in the car is also critical for these situations, as well.
Small Scissors (to remove gum from hair?)
I once arrived at a session, and as I was unpacking my camera equipment, I heard a Mom shout, "WHAT is in your hair?" I lean over behind my car, and the mom simply says to me, "Gum. In the hair. By any chance, do you have a pair of scissors?" Thankfully, it was not in the child's bangs, and I was also grateful that I had a small pair of scissors in the car. (It's a mom car, so there are days I think you could find anything in it).
Ice Packs and Band-Aids
Well, boys will be boys sometimes, as Sheena Magnesen from SMM Photography shared that her clients once bumped heads during a leaf-throwing incident, and one poor little boy got a bloody nose. Sheena acted quickly and grabbed the nearest item possible to help prevent the blood from staining her little client's new clothes. I'm sure this little man still remembers the day he had to hold a (clean) diaper under his nose at the end of his family's portrait session.
Changing Room in Your Car
Beth Seliga from 3 Cats Photo in Virginia always keeps a spare sheet and clips in her car to create a personal on-location changing room with privacy for clients in the back of their car. This comes in very handy for Senior portraits sessions.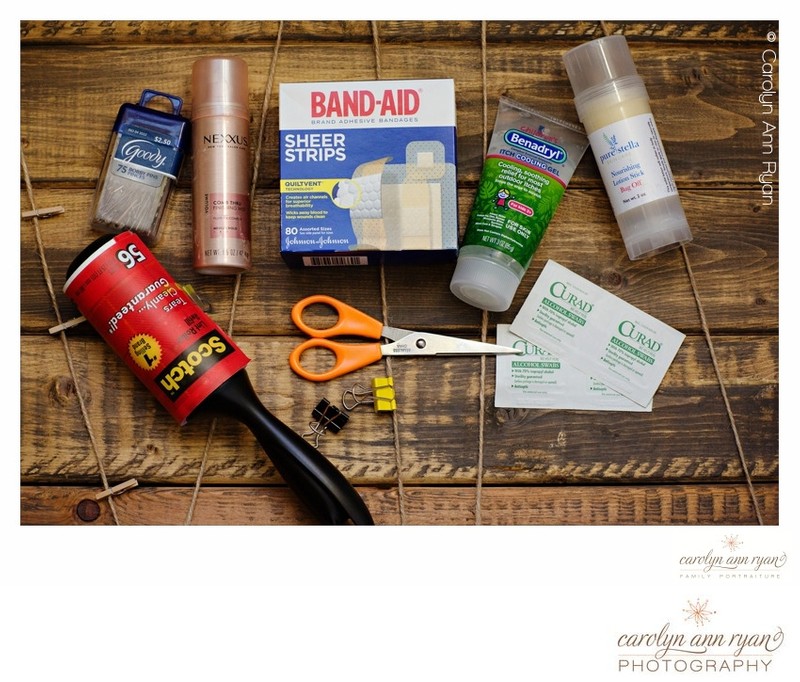 For your camera bag:
Bug Spray and After Bite Spray
Sometimes, the bugs just start too early! I think this upcoming Spring and Summer will be especially problematic due to the mild winter in many states, so definitely keep those handy. I personally LOVE the OFF Deep Woods Towelettes as they are small enough to toss a couple in my ShootSac, and you don't have to worry about them spilling. And this year, I will try a chemical-free product from PureStella Skin Care - The Bug Off Lotion Stick! And if a bite does occur, I LOVE the Benadryl Cool Relief Gel. This particular product, unlike most Benadryl products, is free of diphenhydramine hydrochloride, so it is safer for younger children ages 2+. But please, ALWAYS confirm with parents before applying and ensure children do not have particular contact allergies.
Dryer Sheets
Sheena Magnesen from SMM Photography also keeps dryer sheets in her camera bag because you never know when you may need to remove static cling!
Small and Medium Binder Clips
Binder clips are not just for presentations, apparently. Angela McLaughlin from Tiny Touch Photography always has a few in her bag for clothing adjustments for her clients and finds they are so much easier to use than safety pins, so you are not risking poking your client with a pin! (I must admit, I used these on my last two headshot sessions! Thanks for the tip, Angela.)
Alcohol Swabs
When little ones arrive on location for their family session with temporary tattoos on their arm from the street fair the day before, you will be so happy that you had a handful of alcohol swabs in your bag for easy removal. They also come in handy in case of minor cuts and scrapes.
Small Snacks
Most of the photographers noted they kept small nut-free snacks in their bags. These can help with a needed boost halfway through the session with parent permission. Included suggestions: Smarties, Welch's fruit juice treats, or graham crackers.
Whoopie Cushions and Bubble Machines
Every once in a while, it may take a little more effort to get a shy or stubborn little one to open up and give us their best smile and giggle. Kimberly Tank from Kimberly Tank Art & Photography is excited to use her whoopie cushion this year to encourage laughter! I can't wait to see the photographs that result from this addition.
Lint rollers, hair spray, bobby pins, and more
Angela, Willy, Sheena, Kimberly, and Beth all suggested keeping a small pouch in your camera bag that included lint rollers, hair spray, bobby pins, stain remover wipes, and more. You never know when you will need this emergency kit, and your clients will love that you are prepared for anything.
I know I have a few purchases to stock up on for my car and camera bag kits. What will you be adding to your kit this year? Did we miss anything? Please let us know in the comments!